The Barham Coat of Arms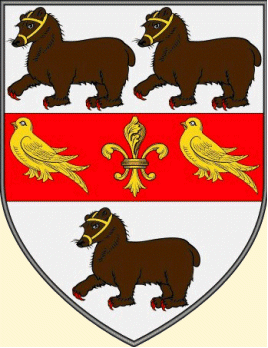 Reproduced from an article entitled "Coats of Arms of Sussex families"
by J H Huxford in a local newspaper in Sussex circa 1980.
This family is recorded as having held lands at Wadhurst in 1441 and a descendent built the older portion on the house at Snape in 1617.
Nicholas Berham inherited lands from an ancestor Reginald FitzUrse, one of the murderers of Thomas Becket. He was admitted to Grays' Inn and became Queens Sergeant in 1573 and was also MP for Maidstone. He played a leading part in the prosecution of the 4th Duke of Norfolk in 1571 for his share in the conspiracy to dethrone Elizabeth I in the favor of Mary Queen of Scots and was thus instrumental in sending the Duke to the block.
In 1577 he was present at the Oxford Assizes where he obtained the conviction of a suspected Roman Catholic, had him sent to the pillory and had his ears cut off. The case had hardly finished when the plague stuck the majority of those who had formed the court including Barham himself who died. No doubt it was considered by some the judgment of Heaven, but unfortunately within a month more than five hundred had perished.
Nicholas' uncle, John, was a noted ironmaster of Wadhurst, ancestor of the Barham's of Shoesmiths in that parish and whose last direct descendent was High Sheriff of Sussex in 1701.
In later centuries Barhams are found in many places in East Sussex, at Westfield between Battle and Winchelsea, at Ticehurst, Salehurst, at Battle itself and at Etchingham and Whatlington and more recently across the border at Kent.
The arms granted in 1574 are : Argent, on a fess gules, between three bears passant, sable muzzled gules, a fleur de lis between two martlets.
The bears may have been taken from the arms of FitzUrse branches of which family bore this charge in various forms. The bear is canting charge alluding to the family name. It is usually shown muzzled. The bears' head is also found as a charge and is treated similarly to the boars head which was explained in the article on Viscount Hailsham.
In recent years a bear which has received considerable publicity is that on the arms of Berlin. Berne , Switzerland also has a bear in it's arms and both are examples of canting charges. A polar bear, possibly the only one in heraldry is the charge on the arms of Hammerfest in Norway, Europe's northernmost town.